Funding agency: European Commission
Project identifier: ETN DuRSAAM – H2020-MSCA-ITN-2018-813596
Project duration: Nov 2018 – Oct 2022
http://www.dursaam.ugent.be/


DuRSAAM is a collaborative PhD framework creating a critical mass of experts skilled in innovative alkali-activated material (AAM) concrete, as a key enabling technology for a sustainable and resilient built environment.
The consortium brings together 7 academic and 15 non-academic partners, to excel in the scientific development and exploitation of AAM concrete, advancing design, modelling and practice beyond the state-of-the-art. It holds a unique focus on:
(1) today's concerns of users and engineers that the durability and sustainability of AAM concrete is yet insufficiently quantified; and
(2) provision of an AAM technology for rehabilitation of structures to meet the growing demand for renovation, to be developed in parallel with AAM for new concrete structures.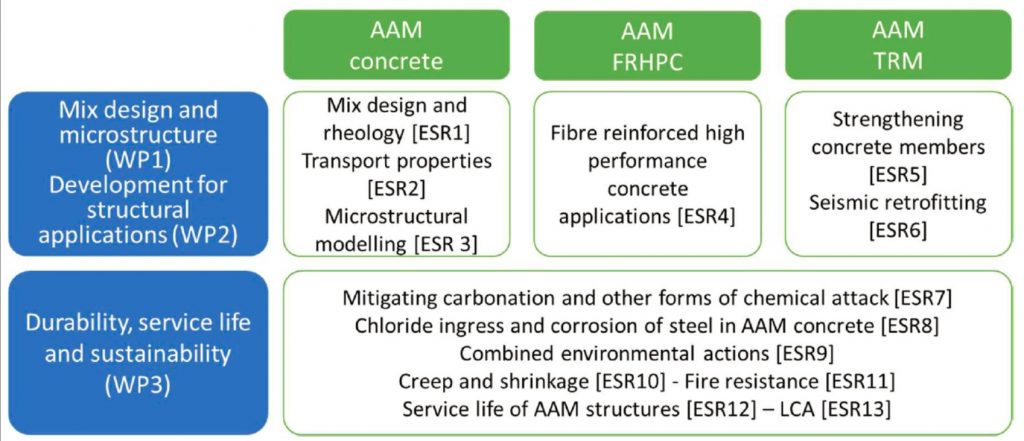 In the project DuRSAAM, Faculty of Civil Engineering University of Zagreb is leading WP 3 on Durability, service life and sustainability. Two Early Stage Researchers (ESR) are employed by the Faculty on DuRSAAM project: Antonino Runci focusing on chloride ingress and corrosion of steel in AAM and Olivera Bukvić, focusing on combined environmental action. Additionally, two ESRs will be seconded to Faculty of Civil Engineering in Zagreb – Zhiyuan Xu from TU Delft, Netherlands, who is focusing on transport properties in AAM and Richard Caron from KIT, Germany, who is focusing on creep and shrinkage of AAM.